A home is one of the most important assets that a person invests in during their lifetime and considered as one of the basic important thing for well and happy living. Keeping this in mind, Kohinoor Real Estate team successfully finished the second phase of the project and handed over more than100 flats to their valuable customers at Kohinoor City.
Phase II, block I comprises ten-storeyed buildings totaling 218 apartments with a configuration of 2, 3 BHK, duplex and penthouses. 25th March 2016 was a memorable day for the Entire real estate team of Kohinoor City, for on this day the Kohinoor City team endorsed the fact that these additional 100 flat owners were Kohinoor Cityzen.
The Kohinoor Real Estate Team has hit the 100 mark by handing over possession of 100 residences to its customers in the quarter January-March 2016. Kohinoor City Phase II customers were delighted with the news that the process of handing over possession of
their flats. The customers thank the entire team of Kohinoor Real Estate for constructing such kind of spacious and luxurious flats.This made the customers to feel happy and helped us in our Brand endorsement.
Mr Bharat Ishi,
VP - Real Estate Division
Explicating the importance of the day, Mr Bharat Ishi, Vice President Real Estate Division, said "Customer satisfaction is one of the major success factors for every company. This is why the key handover of our project is such a momentous occasion for us, and our customers. It gives us immense joy when their smiles tell us that they love their new home. They are happy because our work reflects the respect with their home. Kohinoor City includes every amenity, facility, convenience and luxury while not compromising on the safety and security issues for Kohinoor Cityzens."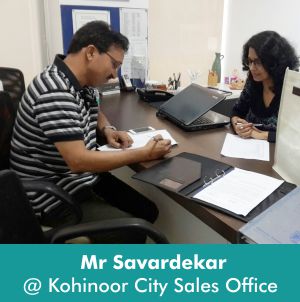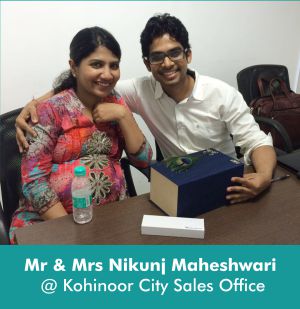 MRS ARCHANA DHAWLE,
GENERAL MANAGER, SALES & MARKETING
Mrs Archana Dhawle, General Manager, Sales & marketing, said "This is an exemplary achievement by the entire real estate team. The team members succeeded in achieving this feat because of outstanding customer focus. Synergy within themselves helped them in handling the entire possession process in a very efficient manner and meeting the timelines. Hearty congratulations to all the team members."
MRS MADHULIKA SIDDIQUI,
HEAD ADMINISTRATION
Mrs Madhulika Siddiqui, Head Administration said "The handing over of the flats has been heart touching for me. The happiness on the faces, tears in the eyes, in la say it all. Handing over becomes an emotional moment where we the 'Team Kohinoor' becomes an extended part of the family in celebrating their joy. Customers are very happy with construction quality, amenities, facilities and post handing over assistance provided by the team at Phase II, Kohinoor City."